Yummy in my Tummy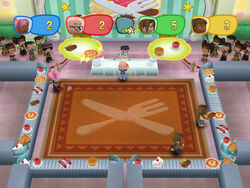 Yummy in my Tummy

Edit
Yummy in my Tummy is hosted by Edwin. He is the star of an eating contest and wants the player's to deliver the specified foods to him. He'll eat other food to, but you wont get any points. It first appears in the Happy Festival.
Bring Edwin the dish he wants to eat! The player who brings him the most orders wins.
Description
Edit
Edwin: Today, we're having a special eating contest. Bring me food, and I'll see how much I can eat! I'll tell you what I'm in the mood for.
After Finishing
Edit
Edwin: Ah, thanks guys. I'm about to burst! Here, check out your scores
Recommended Stat(s)
Edit
D-pad- Run
1- Return food
2- Pick up/give food
Festival Appearance(s)
Edit