Vic Vector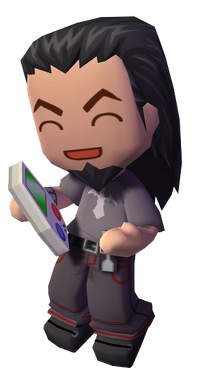 Character Info

Edit
Vic Vector returns to own another arcade. He lives and tends to his arcade in the Stunt Land Theme Park. He assigns the star racer tasks to help his business expand. His first task is that he wants you to participate in his race dedicated to older video games. Vic then decides your ready for the next level! He asks you to go around a newer track going through an obstacle course. Vic Vector announces that you are good enough for his bonus level! He wants you to go through as many gates as you can.
Missions
8-Bit Race
Aim: Finish in 1st, 2nd or 3rd place.
Introduction: Dude! You're [player name], the racer! You're awesome! You should totally enter the race I'm sponsoring. // We're goin' old school, retro-gaming style, with 8-bit action and pinball-style obstacles. Power-Ups are strictly Force Fields and Soccer Balls. // Want me to place your quarter in the queue?
Gold Target: Finish in 1st Place
Silver Target: Finish in 2nd Place
Bronze Target: Finish in 3rd Place
Course: Pinball Canyon
Completion: Awesome, [player name], you got the high score! Your initials will be remembered for generations to come! Oh, here is a bonus treat for you.
Reward:

4W Power Steering,

Magnetic Hitch
Death by Pinball
Aim: Reach finish before time runs out.
Introduction: Hey, [player name], ready for the next level? I've designed a totally brutal obstacle course. You're going to need all of those gamer reflexes for this one! // Think you can beat it? No cheat codes allowed!
Gold Target: 60 seconds
Silver Target: 70 seconds
Bronze Target: 80 seconds
Course: Dr. F's Daredevil Drive
Completion: Woah! You destroyed it! And I thought I had tuned that level too difficult! Too bad I don't have time for another turning pass ...
Reward:
Lithium Plasma Engine,

High-Pitched
Chef Gino's Bonus Round
Aim: Pass as many gates as you can before time runs out. (Time limit is 55 seconds, plus 10 seconds for every gate you pass through)
Introduction: Dude, way to make me feel like a total n00b! I think you've earned your way into the bonus level!!! // You all ready to go?
Gold Target: Pass through 27 gates
Silver Target: Pass through 18 gates
Bronze Target: Pass through 9 gates
Course: Pinball Canyon
Completion: w00t! That was positively, absolutely, totally, seriously awesome, dude. Really. Take this ultra-rare drop as a reward.
Reward:
T-Rex
Best Friend Reward
Ad blocker interference detected!
Wikia is a free-to-use site that makes money from advertising. We have a modified experience for viewers using ad blockers

Wikia is not accessible if you've made further modifications. Remove the custom ad blocker rule(s) and the page will load as expected.