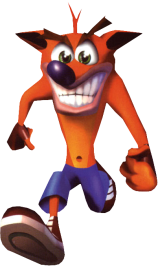 I AM CURRENTLY REVAMPING MY PAGE.
Yo, strangah. Me is Crash Man.
So...as you can guess, I love the Crash Bandicoot games, but (of course), I also like MySims.
Call meh Crash Man!!
MySims Games I Has (in random order)
Edit
MySims (Wii)
MySims Skyheroes (Wii)
MySims Party (DS)
MySims Agents (Wii)
My many nicknames!
Edit
Bandicoot
Bandicoot
Crash Man
CM
Crash
Bandit
Crashie (ONLY CHICKS CAN CALL MEH THAT )
Current word bubbles
Edit
Sonic the Ice Cream

– I Scream, You Scream, we all scream for

X-TREME ICE CREAM!!!'''


TALK

 

– Super Sonic Racing To The Point of No Return!~

YOU HAVE PUT MY DIDDIES TO SHAME.
KAWAII :3

– What, just cuz I'm a guy means I can't like cute things? Feh.




TALK

 

– Kawaiiplz?

Kawaii?
Pics I Think We Should make Smilies of
Edit

and my fav smiley....

smileys on parade!!
Edit
My buddies!
Tha Blankstah, Master of Time and Potatoes!!
Friendship Level:
The Blankster! MASTER OR TIME AND--wait, it already says that. She was the first one I EVER talked to on here (albeit I didn't have an account yet and didn't know how to make one so I asked her. IM SUCH A DERP! Template:Laugh) Anyway, really cool ppl-person-thingamajigger.
[[File:|px|left|link=]][[User:|]]
Friendship Level: File:.png

Thanks for reading my page!!