Trevor Verily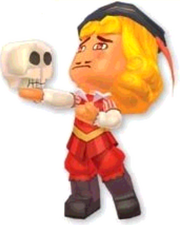 Character Info

Edit
Trevor Verily has his own island! His sunny island is complete with not one, but three stages and a backlot for him to reside in as well as a number of benches for the public. He is currently producing and directing his newest play (along with a second play later), "Princess Alexandra and the Dragon", starring Trevor and you! He will be needing your skills to set up and build props for his three stages in order to make his drama a success and play several parts in the play. He will also ask you to liven up his back lot which is where he resides in his trailer. Trevor then asks you to redesign the stages to match his new play "Baron Spegula's Return".
Profile
Joyous tidings indeed, dear patrons of the theatric arts! An anonymous donor hath bequeathed an entire island to Trevor Verily's Dramatic Troupe. Forsooth!
Ad blocker interference detected!
Wikia is a free-to-use site that makes money from advertising. We have a modified experience for viewers using ad blockers

Wikia is not accessible if you've made further modifications. Remove the custom ad blocker rule(s) and the page will load as expected.