Travis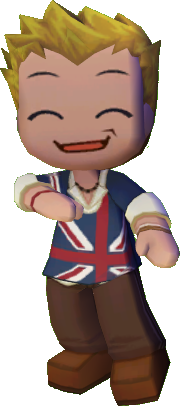 Character Info

Edit
Travis is a young, retired CEO of a party supplies company who would like to spend his retirement by living in a nice, peaceful town. He travels to your town hotel and hopes he is able to get a house built for him to live in.
Profile
Don't let his boyish looks fool you - Travis used to be CEO of a party supply company. Retired at a young age, Travis plans on seeing more of the world and learning how to shave.
Interests
Loves

Fun
Likes
Geeky
Hates

Cute
Dialogue
Hotel Introduction
Hey, what's going on? I'm Travis. So, I'm thinking that [town name] looks like a pretty fun place to live.
Accept Move-In
Yeah, yeah, that sounds cool. I'll just hang out here while you set up a house.
After You Build House
This is cool! Thanks, [player name].
Request For More Stuff
This'll be a great place to hang out. We could add some music, you know, whatever's Fun.
Star Level 2
Dude, DJ Candy is the best DJ on the planet. Seriously. And she's kinda cute.
Star Level 3
Dude, Annie Radd is the coolest rock star ever. Seriously. And she's kinda cute.
Star Level 4
Hey, have you met Pirate Ginny? Now there's a girl who knows how to have fun. And she's kinda cute.
Star Level 5
Do you like my hair blond? If I'm hitting the clubs, I gotta have nice hair.
Best Friend
So yeah, this place looks pretty amazing! You're a pro, [player name].
Best Friend Reward
Ad blocker interference detected!
Wikia is a free-to-use site that makes money from advertising. We have a modified experience for viewers using ad blockers

Wikia is not accessible if you've made further modifications. Remove the custom ad blocker rule(s) and the page will load as expected.