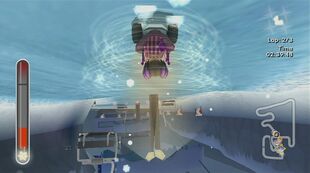 Tornado Inverter is a power-up in MySims Racing. If you use this power-up, all the opponents ahead of you will have their screen flipped upside down for a few seconds, also causing their controls to be reversed. Dash ahead of them while they're still confused to gain a lead.
Official Description
Edit
This turns the view of opponents ahead of you upside-down for a limited time, making it harder for them to maneuver their vehicles.
The Tornado Inverter returns in MySims Sky Heroes, but Inverter is not included in the name.
Ad blocker interference detected!
Wikia is a free-to-use site that makes money from advertising. We have a modified experience for viewers using ad blockers

Wikia is not accessible if you've made further modifications. Remove the custom ad blocker rule(s) and the page will load as expected.