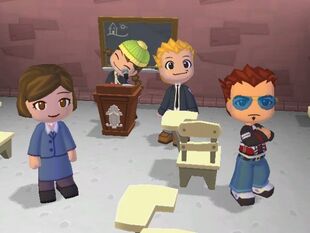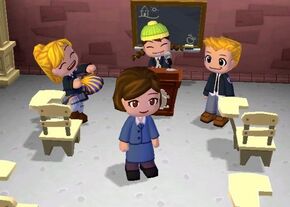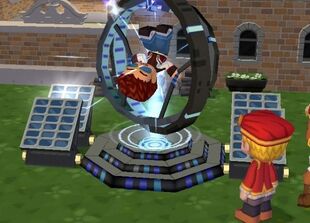 The Royal Academy
is a very studious, academic island with a school on it. It contains several notable areas, such as the school building where the students go for their daily learning, the student's dorm where they will stay, the dance floor where
Travis
will choose to dance with either
Summer
or
Liberty
, a pen for 
Filbert
, the school's mascot, and Chaz's Gyro Dance Sphere near it.
Island Residents
Edit
Pulling Weeds
Edit
Prospecting
Edit
Collectibles
Edit
Figurines
Ol' Gabby Figurine
Weed #3 of a Weeding Chain
DJ Candy: Ace Attorney Figurine
Give a speech at the podium. Small chance.
Siamese Amy & Emily Figurine
Prospecting
Beach Party Morcubus Figurine
Weed #4 of a Weeding Chain
Flowers
Black Tulip
Behind a flower bed near the school's fountain
If you stay in the dorm all day, the students will stay inside, and they won't go to school that day.
If Liberty is the prom queen, then Chaz will just dance with her. However, if Summer is the prom queen, Chaz will say he has always liked her cheers. This may be because Chaz has a crush on Summer.
The Royal Academy Dance Music was later reused in The Sims 3 Generations when your Sim goes to a prom, and the player looks at the front of the school.
The Dance Music was also used in The Sims 2: Nightlife, if you go to a certain nightclub and DJ.