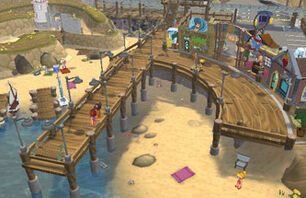 The Boardwalk is a very popular area in the City. The usuals include; Taylor and Clara, two swimmers, and Luke, a surfer, who also owns a surf shop. There are several businesses throughout the boardwalk, such as a sushi bar, a tattoo parlour, and various shops. One of your first tasks is finding who broke Luke's surfboards, it is figured that Yuki, a devious MorcuCorp employee, and her mini-sub within secret submarine docs hidden away in a cave, had much to do with the mysterious going-ons. You discover much involving the Crown of Nightmares, along with a sunken ship and an underwater cave offshore holding a map to the location of the mysterious crown.
Residents & Visitors
Edit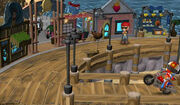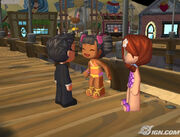 The Boardwalk
Surf Shop
Tattoo Parlour
Secret Sub Dock
Sunken Ship
Businesses
Edit
Ad blocker interference detected!
Wikia is a free-to-use site that makes money from advertising. We have a modified experience for viewers using ad blockers

Wikia is not accessible if you've made further modifications. Remove the custom ad blocker rule(s) and the page will load as expected.