Terry Toymender
Character Info

Edit
Terry Toymender is an old man with white hair and mustache and he is a toymaker for a living. He has grey hair, bushy eyebrows, small brown eyes, a mustache, a pencil tucked behind his ear, and an apron with a teddy in it.
Terry never had a lot of money growing up, but he had a very loving family. When he was only two years old, his mother saved up to buy enough materials to stitch together a little teddy bear for Terry's birthday. It was Terry's only toy and he took very good care of it, mending any boo-boos that came along and replacing its stuffing when it was over-hugged. Today, Terry runs his own shop fixing up toys for boys and girls everywhere. And yes, he still has his old teddy with him.
Interests
Edit
Description: I have the coolest toys in town, but I don't have great displays for showing them off. Can you help me out?
Requirements: Sculpture with 4 Tim Doll and 4 Tina Doll, Wall Sculpture with 2 Tim Doll and 2 Tina Doll
Reward: Decorative - Terry's Merry Marionettes
Hint: The desert is so vast, [player name]. You never know what you might find just underneath the dirt.
Thanking Dialogue: These toy displays are awesome! The kids will love them! Thanks, little buddy! You are quite a craftsman.
Description: I may be old, but I like playing arcade games and dancing to music. It's a great way to attract customers too.
Requirements: Stereo with 4 Musical Notes and 4 Yellow Crayon, Arcade Game with 4 Musical Notes and 4 Red Crayons
Reward: Decorative - Sandbox Table
Hint: Once, while deep in the forest, I heard the most beautiful music. It seemed to be coming from a cave across the water.
Thanking Dialogue: Rock 'n' roll, [player name]! I only hope that I don't spend all day playing. Someone needs to run the store....
Description: Here is the finishing touch for my store. It will be the masterpiece of this place. Can you handle it?
Requirements: Amusement Ride with 6 Kitten and 2 Magic Carpet
Reward: Decorative - Light Brown Teddy Bear
Hint: I heard a fanciful story the other day about a Garden where Kittens grow on trees. Can you imagine?
Thanking Dialogue: I owe you big, little buddy! Kids are going to be lining up for this ride!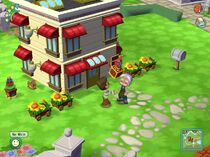 Hotel Introduction
Edit
Why hello. I'm Terry Toymender, an expert toy maker, toy designer, and toy fixer-upper! Does this town need a Toy Store?
Accept Move-In
Edit
Why yes, I would like to open a Toy Store in [town name]. That sounds delightful! I'll wait here while you build my store.
After You Build House
Edit
My Toy Store is looking great! Thank you, [player name]!
Request For More Stuff
Edit
I draw a lot of inspiration from Cute things. The more the merrier. Help me find inspiration, [player name]!
Star Level 4
Edit
Why hello, [player name]. How do you like my toys?
When admiring essences I just can't decide whether I like Puppy essence or Yellow Crayon essence best…
What if I made a line of [player name] Dolls? Would you want one in your home?
Star Level 5
Edit
Which do you like better, [player name]? Tina Dolls or Tim Dolls? I'm thinking about turning them into action figures.
Everyone needs a truly unique toy, don't you think so [player name]?
I hope kids will be lining up to see my toys. I will be so happy when that happens.
Best Friend
Edit
You are a fantastic craftsman, and a kind soul. I am honored to call you my friend, [player name]!
Best Friend Reward
Edit
Terry seems to be based off of Santa Claus or Geppetto due to the fact that he is a jolly toy maker and has white hair and mustache and is also an old man.
Terry is one of the six exclusive Sims from the PC version of MySims.
The music in his toy store is the same music as the Cutopia Castle and Renée's Nature Preserve in MySims Kingdom. It is also used in MySims Racing (DS) while driving through the town.
Terry is the only male, cute, commercial sim in MySims.
The teddy bear in Terry's apron pocket could be his old teddy bear that was mentioned in his profile.
Foreign Names
Edit
English: Terry Toymender
Spanish: Tono
French: Maxime
Japanese: テリー
Ad blocker interference detected!
Wikia is a free-to-use site that makes money from advertising. We have a modified experience for viewers using ad blockers

Wikia is not accessible if you've made further modifications. Remove the custom ad blocker rule(s) and the page will load as expected.