Googleybear's Page
Talk

0
1,447pages on
this wiki
Template page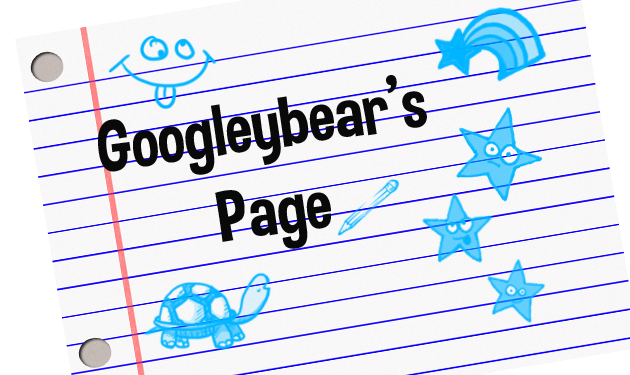 Aloha fellow earthling known as <insert name here>, and welcome to my page of pageness. My name is Ashley, but people here call me Ash, Googley and Google. I don't mind you calling me any of the above. I come from Britain, but I've adapted my vocabulary for American audiences because I'm a great guy. If I'm honest, this world needs more people like me. *shot*
Anyhoo, welcome to my page and enjoy your time here. I suggest you look around and admire it. :P

I live in Essex, England. Yes, the place with fake tan-wearing chavs and the farmers. And no, I'm neither of them.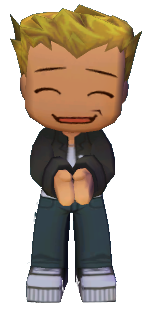 I was born on 28th July 1998 currently making me 14. I became an admin here a few days before my 2nd Wikiversary... and I've contributed like, nothing to the wiki!

I'm a massive fan of Waterloo Road and it's my favourite show of all time. Way better than Degrassi. Don't kill me Skull.

I also enjoy playing The Sims 3 and I own all the expansion/stuff packs to date.
I use Photoshop and have somewhat good expertise of the program, so I can make banners etc. I don't generally do requests as I'm a lazy bum busy. And for my music taste, I enjoy most chart music, although I am quite picky about some rap and dubstep. Some of it sucks like mad.
Ah yes, I'm forgetting my Sim. He's above this lump of text looking rather happy about something. I guess, out of the interests in MySims, I'd be Tasty and Fun.

Travis He be funky with his mobile telephone. :B
Paul teh Yeti! He is so down to earth and such an ordinary guy... except from the fact that he's a yeti who lives in a cave, deep in the mountains. :B
Violet Spookeh!

Nah, she is very modest, and I like that.

Buddy He makes a great companion to your sim.
Luis He just has something likeable about him, I guess.
Evelyn I feel sorry for her. I mean, how would you feel if your dad was clinically insane and needed to be sectioned?
Roland Cupcakes are great, and nutritional!

Marlon the Great He's such an unassuming chap.
Dr. F Eh, he's a physcopath, but I don't mind.
Jenny She's so laid-back and doesn't have a care in the world.
Ginny Pirates are cool.

T.O.B.O.R You gotta admire his aspirations, I mean, opening a diner on a planet with only 3 sims. There's not gonna be much business, but at least he's dedicated.

Morcubus First off, he has a stupid name. Secondly, he's evil and could really use some counseling.

Brandi Man, I'd love to give her a slap.
Esma She is a stuck up little brat. End of.
Edwin His eating habits are absolutely vulgar a piggish. I hope he gets a belly ache.

Rhonda Skull won't like me for this, but hey... she bores me and her "mottos" get annoying.
Daryl I swear, he always gives me the bum cards in Party.
Odin I just generally don't like these sort of people. He is rowdy and looks like a tramp.

Chaz Don't even get me started. He is so full of himself and his stunt business is just dumb. That's why I made him paralyzed in my fanon game. XP
Oh lordy, lordy! I've been tagged!
Tagged by Csphere (7/21/10) - When I was 3 I peed under a table at Disneyland Paris.
Tagged by Tardisgirl (7/21/10) - When I was little I stole a role of Selotape from B&Q.
Tagged by Pottah (9/19/10) - Olly Murs went to the same High School as me!

When it was the week of the X Factor final Olly and Simon Cowell came to our school.
Tagged by Blanky (Unknown date) - When I went to Orlando, I set the breakfast room toaster on fire with a bagel, my dad put it out with a tea towel.

Tagged by Pottah (6/23/12) - Hmmm... my two biggest hates are Will.i.am and Vimto.



I apologize if I've left you off, my memory is bad, so don't get offended.
Pottah
Friendship Level:
He's a cool dude who lives in the same region as me. WE SHALL FIGHT THE FARMERS AND THE CHAVS TOGETHER! No offence if you're a chav or a farmer, it's nothing personal... I just don't like you. xD

Anyway, back on track... Potter is a laugh and is a very modest, understandable person so I commend him for that. He seems to have an obsession with song quotes and always brings up Nicki Minaj. Not that Nicki is bad or nothing. I mean, who doesn't like a plastic, drugged-up rap artist?

Zain
Friendship Level:
Zain, Zain, Zain... where do I start? He's a cool guy. He used to live in Essex, but then he ditched me for Canada. But, I'm not bothered about that. He is fun to talk to... apart from when he goes on about the Illuminati. If you don't know what that is, then get off my page and head over to Google. He strongly believes that they exist which is kind of amusing. Aside from that, Zain is a good person who I've talked to for ages. He is rather random, and keeps bugging me about sending him something. You'll never get it, bro!

Flora (Iona)
Friendship Level:
Iona is great to tease. Lolwut? I'm such a horrible person. Loanathecat Iona is cool person... even with her Phantom R obsession, yes. I'd totally buy Rhythm Thief if I had a 3DS!

We talked loads in the chat and we became pretty good friends. Her Do-Whatever-You-Want-RP rocks! She lives in a bungalow by the sea, which is rather cool, too. :B However, Iona seems to have gone missing and we don't know where she is. DUN DUN DUN! But if you're reading this, Iona, come back yo!

Skull
Friendship Level:
Gage is fun to talk about other users with. He is a terrible influence on me, really. But being mean and talking behind other peoples backs is fun! He writes Battle of the Sim-est, which is great and he always nags me to read it whenever he writes a new episode. I kinda got inspiration from his show, to write mine. He is a fan of Degrassi, but if I'm honest... Waterloo Road is better. Also, he doesn't understand my British colloquialisms which is amusing. ^_^

Gemma
Friendship Level:
Ah yes, good ol' Gemma. Being a fellow Brit, she understands what I'm going on about... mainly when it comes to my taste in TV viewing. I remember when I was relatively new here, Gemma and I used to talk on facebook about soaps... Ahh soaps, you gotta love how the characters all live on one street and someone gets brutally murdered each month . Getting back on track to what I'm supposed to be rambling on about... Gemma is a fun, kind person who is great to talk to and more than approachable and I'd consider us friends and we have been for quite a while now.

Salin
Friendship Level:
I met Salin sometime ago near the beginning of my wiki life, but we weren't particularly good friends... I mean, we talked a bit, but I wouldn't class us as BFFLs or anything. However, we got talking more over chat and I started doing requests for him, and then huzzah! We become pretty good friends. We don't talk as much as we used to, but we still get along. Oh jah, and he's from Thailand and idk why, but I like having friends from foreign countries. It just seems super cool.

Icecream
Friendship Level:
I met Icecream not long ago, but we speak on chat pretty often which is always enjoyable. One time on chat, when I was competing in Wiki Murder, I encouraged Icecream to vote for Gold and in return change my icon to Melanie Martinez from The Voice USA for a few months. I changed it for 3 days and then turned back. MUAHAHA! I lie! But, if you're reading this, Icecream, I apologise. That was mean of me. Anyhoo, Icecream is a really fun user to talk to and just genuinely an awesome guy.

Katrina
Friendship Level:
Back when I was relatively new to the wiki, I met Katrina - a cool, funny and kind person. As her username suggests, she was apparently loaded with cash, but I dunno if that was true or not... Anyway, we became really good friends and spoke pretty much everyday. Katrina also worked heavily over at MySims Fanon where I would often do requests for her, which I thing probably aided our good friendship to start. I swear, the only way I can make friends with people on here is to do requests for them. Unfortunately, Katrina left without a trace and I haven't spoken to her since. :'O

Tardisgirl
Friendship Level:
I first met Tardisgirl when I asked to join her fanon productions company, Tardisgirl98 Productions. Creative name, huh? She was a mega fan of Doctor Who (as her username suggests) but before it became super popular and hipster to watch. So, she's x10 cooler than all you Tumblr-Whovian Hipsters. *Clicks fingers like a ratchet* Although, she left a while ago and I haven't spoken to her in a long while, I would still say that she is a great friend of mine, simply because I can remember all the awesome times we had together on this wiki as well as other wikis.

Natalie
Friendship Level:
Nat was one of my very first friends on this wiki. I believe we joined around similar times, and as two noobs of the wiki, we instantly became friends by talking on a regular basis. I remember this one time where we played on Animal Crossing together and I was like "oMIGOShch zis iz sooooo C0oL!!!111!" as I was a mega noob. Unfortunately, as years have passed and Nat has moved onto other things, I haven't spoken to her for ages. I have her email, but I'm too lazy to get in contact with her (or any of the other inactive users for that matter.)