Sylvia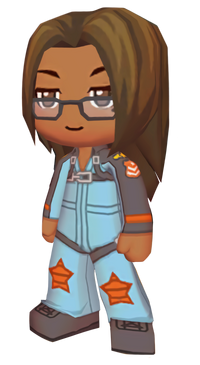 Character Info

Edit
Sylvia appears in MySims SkyHeroes on the console. She is a member of the Gal Force 4 along with Evelyn Gray and DJ Candy "Supergroove". She often gets into arguments with Evelyn, which You and DJ Candy usually have to break up. Despite dropping out of the Royal Academy in MySims Kingdom, she is very studious and thinks reading a flight manual cover-to-cover is better practice than actually flying. She seems to have forgotten about Gonk as she never mentions him at anytime in the game.
Missions
Set by Sylvia
None
Involving Sylvia
Dialogue
Thanks for the help back there, [player name]. Those drones came out of nowhere!
Gal Force could really learn a lot buy watching you fly, [player name].
We've been analyzing footage of you flying, [player name]. It's really quite enlightening.
Woo! Time to show what we've been practicing for!
We really flew well in that last mission, didn't we?
The pressure's on this time. I hope all of our training pays off.
We really are a team now, aren't we?
You can do this, [player name]! You've taught Gal Force so much, now it's time to show Morcubus what a true pilot can do.
After Game is Complete
Your flying techniques are truly fascinating, [player name]. Maybe I should write a book about you!
Ad blocker interference detected!
Wikia is a free-to-use site that makes money from advertising. We have a modified experience for viewers using ad blockers

Wikia is not accessible if you've made further modifications. Remove the custom ad blocker rule(s) and the page will load as expected.