Star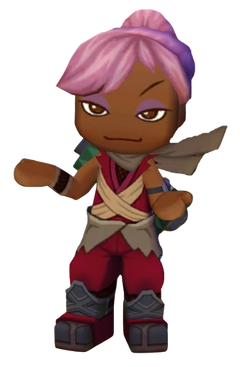 Character Info

Edit
Star comes to town as the uber geeky Sim. She is a jonin ninja from the "Crescent Moon Village". She has her pink hair in a ponytail and a red ninja outfit.
Profile
Star is a jonin of the Crescent Moon Village, home of 10,000 jutsus. That's a lot of jutsus!
Interests
Loves
Geeky
Likes

Spooky
Hates

Tasty
Dialogue
Hotel Introduction
Well howdy there! The name's Julie! I'm a farmer from a nearby town. What an interesting place this is!
Accept Move-In
Well sure, I'd love to move here! I, uh, reckon that's a great idea! But is there enough room for a farm?
After You Build House
Ha! I have deceived you! I am not a farmer, but a ninja! I am Star, of the Crescent Moon Village. Ninjas must train to impersonate normal people in order to spy on them.
Request For More Stuff
Snakes, springs, stars… Any of these things can become weapons in the hands of a trained ninja!
Star Level 1
Star Level 2
What would you rather be, a ninja or a pirate? Really, the choice is obvious.
Star Level 3
Ninja Art Pleasant Conversation Jutsu! … Hi, nice weather, isn't it? It's so lovely outside!
This Ninja Scroll I carry has the secret Ninjutsu Technique of the Crescent Moon Village. You shall never have it! Nor shall anyone else!
Every once in awhile when you're fighting another ninja, you'll be going at it, and then—Boom!—you find yourself hitting a log. Argh, I hate it when they turn into logs!
Star Level 4
Yup, this here looks like a good spot to plant down some corn, yessiree!
Who says I need to wear all black? I'm such a good ninja, my pink hair isn't even a stealth liability!
Hey, don't mess with me! I'm a jonin of the Crescent Moon Village. We have so many secret jutsus, you wouldn't believe it!
Star Level 5
I can run on anything: water, rooftops, treetops. You name it!
Don't underestimate me just because I'm a girl ninja and wear bright clothes. Why, just last night I repelled an invasion by an evil ninja gang! No, no need to thank me. It's just what I do.
This town's a lot safer with me in it, don't you think?
Best Friends
[player name], you are a trusted friend. I know that the secret of my real identity is safe with you!
Best Friend Reward
Different colored ninja outfits
Bed - Tree blueprint
Ad blocker interference detected!
Wikia is a free-to-use site that makes money from advertising. We have a modified experience for viewers using ad blockers

Wikia is not accessible if you've made further modifications. Remove the custom ad blocker rule(s) and the page will load as expected.