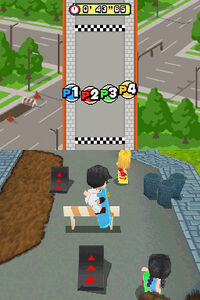 Skating Scamper is a minigame that is run by Chaz McFreely. You must race to the finish line, with many obstacles in your way, though there are ramps to help you jump over them.
Description
Edit
Chaz: Yo, everybody! Are you up for the Xtreme Sports Challenge? I want to see your sickest moves. Don't look like a chump!
Recommended Stat(s)
Edit
Ad blocker interference detected!
Wikia is a free-to-use site that makes money from advertising. We have a modified experience for viewers using ad blockers

Wikia is not accessible if you've made further modifications. Remove the custom ad blocker rule(s) and the page will load as expected.