Sim Fu 100-Tiger Strike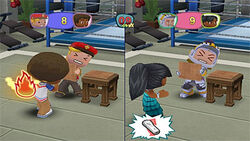 Sim Fu 100-Tiger Strike

Edit
Sim Fu 100-Tiger Strike is hosted by Master Aran. He wants you to partner up and see how many boards you can break.
Pair Up! One holds a board and the other punches it. The pair who breaks the most boards wins.
Description
Edit
Aran: "Okay, get into pairs. One of you hold a board so the other can punch it! Break as many as you can, but don't break your partner's face!"
After Finishing
Edit
Aran: "Super-Synergy-UltraSlam!!! You guys showed some great teamwork! Here are your results."
BOARDHOLDER
Swing Wiimote: Grab Board
BOARD BREAKER
Swing Wiimote: Punch
Recommended Stat(s)
Edit
Festival Appearance(s)
Edit
Ad blocker interference detected!
Wikia is a free-to-use site that makes money from advertising. We have a modified experience for viewers using ad blockers

Wikia is not accessible if you've made further modifications. Remove the custom ad blocker rule(s) and the page will load as expected.