Sasha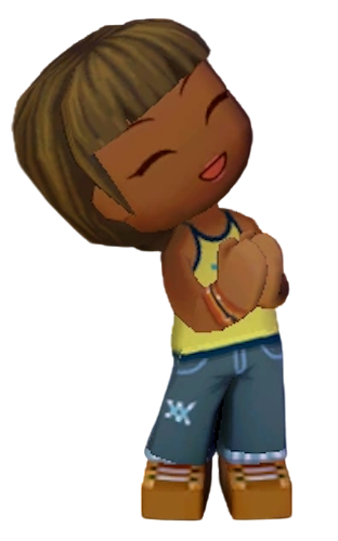 Character Info

Edit
Sasha is a potential resident who wants a house decorated with lots of delicious items. She comes to your town during her travels to have a meal from every city in the world. This young woman loves to eat at all the restaurants in town, and hang out with the other tasty sims. She wears brown hair in a braid and uses pink lipstick. She also wears a yellow tank-top with a banana on it and jeans.
Profile
Bananas are the perfect way to start any day. Sasha even eats the peel. It's good for you!
Interests
Hates
Dialogue
Hotel Introduction
Hi, there! I'm Sasha. I wanted to see more of the world, so I've decided to eat a meal in every city in the whole world.
Accept Move-In
Sure, I'll hang out here for a while. When do we eat?
After You Build House
Great house! It almost makes me want to get food delivered, but that would be cheating.
Request For More Stuff
Hmmm…what am I hungry for? Pizza? Ice Cream? Sushi?
Star Level 4
I actually went to a town once where a woman was serving barbequed bananas. Have you ever heard of anything so disgusting? Blech!
I spent some time in a town where the favorite food is frozen soup on a stick. I had the vegetable—it was worse than it sounds.
Star Level 5
Once I traveled to a town that only served Pineapple Surprise. It was just a bunch of pineapples on a plate! What's so surprising about that?!
This one time a guy sold me a rare invisible hamburger. It was light as air and didn't taste like anything at all. …Hey, wait a minute!
Best Friend
You're the best, [player name]! Every time I eat in a strange new town, I'll be sure to send you a postcard.
Best Friend Reward
Ad blocker interference detected!
Wikia is a free-to-use site that makes money from advertising. We have a modified experience for viewers using ad blockers

Wikia is not accessible if you've made further modifications. Remove the custom ad blocker rule(s) and the page will load as expected.