Samurai Bob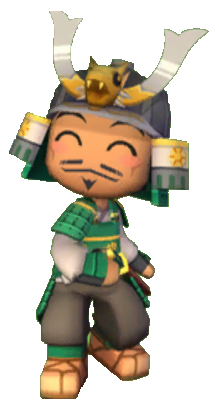 Character Info

Edit
| | |
| --- | --- |
| Role | Gas Station Owner |
| Business | Samurai Gas |
| Residency | Speedville |
Samurai Bob owns a gas station, "Samurai Gas", in Speedville and makes a good business refueling all of the cars that partake in the races throughout town. After completing various tasks that Samurai Bob assigns, his gas station expands and his business grows. His sensei's name is Samurai Mike.
Missions
My Master's Wrenches
Aim: Reach finish before time runs out.
Introduction: Oh no! I lost my best set of wrenches while driving around. These were given to me by my sensei, Samurai Mike! // Can you help me find them? I'll throw in a free samurai air freshener ... It smells like discipline!
Gold Target: Collect 40 items
Silver Target: Collect 32 items
Bronze Target: Collect 20 items
Course: Tumbleweed Track
Completion: Thank you so much! No samurai feels complete without his premium wrench set. Accept this modest present as a token of my gratitude.
Reward:

Double Triangles
Legend of the Green Samurai
Aim: Finish in 1st, 2nd or 3rd place.
Introduction: Welcome back, honorable racer! Samurai Gas is organizing a race to test a new eco-friendly fuel. // You have the soul of a Samurai. Can I count on your help?
Gold Target: Finish in 1st Place
Silver Target: Finish in 2nd Place
Bronze Target: Finish in 3rd Place
Course: Tumbleweed Track
Completion: You are strong in the way of the car! The test was a success. Please take this for your trouble.
Reward:
Quadra Stroke Engine,
Station Wagon
Samurai Bob's Bonus Round
Aim: Pass as many gates as you can before time runs out. (Time limit is 35 seconds, plus 10 seconds for every gate you pass through)
Introduction: The townsfolk are still talking about the race you won. They want more! How about showing off your skills in a "Beat-the-Clock" race? // I would be honored to sponsor you for this event. Do you accept?
Gold Target: Pass through 12 gates
Silver Target: Pass through 9 gates
Bronze Target: Pass through 5 gates
Course: Tumbleweed Track
Completion: Ha! I knew you would uphold the code of the warrior and come through victorious! Here's your reward!
Reward:
Double Spoiler
Best Friend Reward
Steer-by-Wire
Ad blocker interference detected!
Wikia is a free-to-use site that makes money from advertising. We have a modified experience for viewers using ad blockers

Wikia is not accessible if you've made further modifications. Remove the custom ad blocker rule(s) and the page will load as expected.