Roxie Road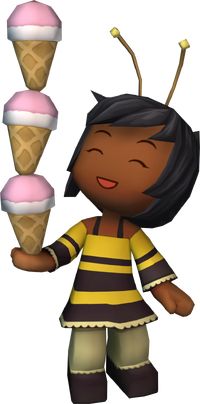 Character Info

Edit
Roxie Road runs the Ice Cream Dream minigame in which she needs help serving her customers ice cream. If you suceed in filling up dozens of orders in a matter of minutes and make a ton of customers happy, she will move into your town and open a ice cream shop in Twinkle Hills.
Dialogue
During Minigame Dialogue
Can you help me serve ice cream? Look at the image next to the cone, scoop, and place it on top. Some may want a double scoop!
Wow, you mad a lot of ice cream cones! And you didn't even spill any! Please come help me out again sometime! Here are your scores.
Dialogue about her Minigame
Scooping ice cream requires "Power" 'cause frozen ice cream is hard. If you have the strength of a worker bee, it'll be a snap!
When putting two scoops of ice cream on a cone, think about the order in which you put them on. Start from the bottom up.
Ice cream tastes good when you mix flavors, too! But don't put the wrong scoop on the cone. The customer wouldn't like that.
Miscellaneous Dialogue
Don't you sometimes just get a craving for ice cream even on a cold day? I know I do. Of course, it's even worse on hot days!
We often call vanilla flavored ice cream "plain". I don't know... I don't think there's anything plain about it!
Skills
Power- 3
Speed- 2
Stamina- 2
Luck- 2
Ad blocker interference detected!
Wikia is a free-to-use site that makes money from advertising. We have a modified experience for viewers using ad blockers

Wikia is not accessible if you've made further modifications. Remove the custom ad blocker rule(s) and the page will load as expected.