Roger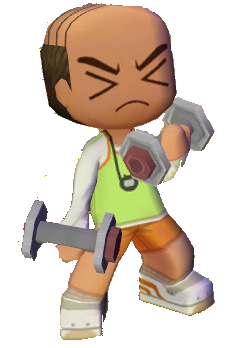 Character Info

Edit

Roger is an exercise nut. He comes after a population spike seeking his own home. He will often at random times start doing jumping jacks or push-ups. He is bald on the top of his head and has brown hair on the sides of his head. He wears a green gym shirt and orange gym shorts. He also wears a stopwatch around his neck.
Profile
Roger enjoys lots of fun things: jogging, taking his pulse, stopping to catch his breath. The list goes on and on!
Interests
Hates
Dialogue
Hotel Introduction
*huff* *huff* Hi, there! The name's Roger. I was just running through town, but this looks like a fun place to take a breather.
Accept Move-In
Yes! That's so exciting, my heart rate quickened by eleven beats per minute!
After You Build House
*huff* *huff* Hi, [player name]. Just stretching out my quads. Thanks for the house, by the way.
Request For More Stuff
I need some Fun and exciting decorations in here to get my blood pumping! Feel the burn!
Star Level 2
I want to go for a run in the desert, but I can't get there. There are all sorts of rocks in the way!
Star Level 3
How's your heart rate doin'? Keepin' in shape?
Star Level 4
I'm winded, bud! Been runnin' too much!
Star Level 5
This town is the perfect place for a good footrace! Bet I can beat you in the "[town name] Mega Marathon Circuit"! 9000 laps around the town! Through the desert! Through the forest! Through the FOUNTAIN!
Best Friend
Wow! Thanks, [player name]! Friendship truly is the strongest muscle.
Best Friend Reward
Chair - Rickshaw blueprint
Ad blocker interference detected!
Wikia is a free-to-use site that makes money from advertising. We have a modified experience for viewers using ad blockers

Wikia is not accessible if you've made further modifications. Remove the custom ad blocker rule(s) and the page will load as expected.