Rob Jarrett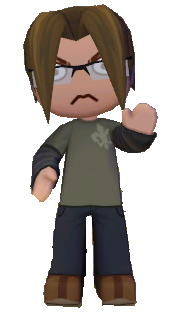 Character Info

Edit
Rob Jarrett is a geek who loves video games. He normally likes to learn how to master a certain combo.
Profile
Rob Jarrett speaks softly and carries a big joystick. He is widely recognized as the King of the Combo.
Interests
Hates
Dialogue
Hotel Introduction
Hey, I'm Rob. You ever play that game Plane vs. Eye? I'm playing the MMO version: "World of Plane vs. Eye."
Accept Move-In
Yeah, I'll move in. You guys have hi-speed here, right? If I'm gonna get my Eye Shaman to level 50 I gotta have ZERO lag.
After You Build House
Man, the class balance in "World of Plane vs. Eye" is awful! The Planes are totally overpowered!!!
Request For More Stuff
Man, I just gotta get one more level in "World of Plane vs. Eye"…But I can stop anytime I want, you know…
Star Level 5
In Rage Masters 20 Alpha X, if you pick Smarvo and do UP, UP-RIGHT, RIGHT, DOWN-LEFT, LEFT, UP-LEFT, Strong Punch, Weak Punch, Strong Kick, you do his Ultra-Hyper-Mega Combo, the Melodious Panic Seismic Drop! MAX DAMAGE!
Best Friend
Thanks, [player name]! You rock! If you make a healer, I will totally start over on a new server with you!
Best Friend Reward
Arcade Game - Spike blueprint
Ad blocker interference detected!
Wikia is a free-to-use site that makes money from advertising. We have a modified experience for viewers using ad blockers

Wikia is not accessible if you've made further modifications. Remove the custom ad blocker rule(s) and the page will load as expected.