Rhonda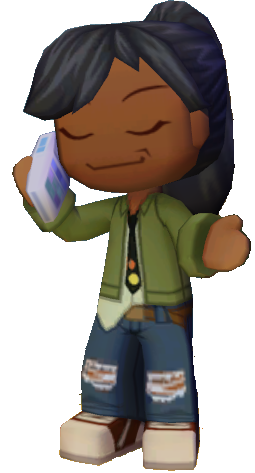 Character Info

Edit
Rhonda is a fun woman who comes to your town after you have reached a rising population. She wears a green jacket with a white shirt underneath. She also wears baggy ripped jeans. She has her black hair in a ponytail.
Profile
Rhonda lives for the now and enjoys every second of it. Why worry about tomorrow when it's always today?
Interests
Hates
Dialogue
Hotel Introduction
Hey, hey, hey! I'm Rhonda. What's up? Is [town name] a fun place to live or what?
Accept Move-In
Hecks yeah! I'll wait here while you build me a house.
After You Build House
Oh, right on! With a couple of touches, this could be a real party house.
Request For More Stuff
I need to get lots of Fun things so Sims will want to come party with me!
Star Level 2
Live every day like it's your birthday! That's my motto.
Live for the now! That's my motto.
Star Level 3
Have fun until your brain explodes! That's my motto.
Star Level 4
Sleep is for old people! That's my motto.
Star Level 5
*yawn* Actually, I'm a little tired from having so much fun. I think I need a nap…
Best Friend
Yes! This is officially the perfect party pad! You can come hang with me anytime, [player name]!
Best Friend Reward
Table - Lattice blueprint
Ad blocker interference detected!
Wikia is a free-to-use site that makes money from advertising. We have a modified experience for viewers using ad blockers

Wikia is not accessible if you've made further modifications. Remove the custom ad blocker rule(s) and the page will load as expected.