Renée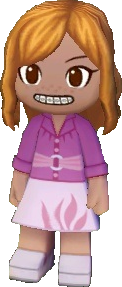 Character Info

Edit
Renée is a cute girl who will come to your town when its population is competely full. She loves pigs and has a ice cream freezer designed as a pig.
Profile
The day Renée got to pet a baby pig at the petting zoo, she vowed never to eat meat again. Except lamb chops, those are yummy.
Interests
Hates
Dialogue
Hotel Introduction
Hi, I'm Renée! Do you know what's so cute? Pigs!
Accept Move-In
Oh, yay! I get a house! Too bad pigs are too messy to raise in a house…
After You Build House
Did I mention that I am a STRICT vegetarian? Pigs are for hugging, not for chewing!
Request For More Stuff
[player name], I want my house to be just as Cute as a pig's whiskers.
Star Level 5
If I could raise my own pig, I would ONLY feed her organically grown, pesticide-free, vegetarian slop.
Best Friend
Yay! Thanks, [player name]! Can I offer you a cruelty-free lettuce and tofu sandwich?
Best Friend Reward
Ice Cream Freezer - Piggy blueprint
Ad blocker interference detected!
Wikia is a free-to-use site that makes money from advertising. We have a modified experience for viewers using ad blockers

Wikia is not accessible if you've made further modifications. Remove the custom ad blocker rule(s) and the page will load as expected.