Quiz Show Showdown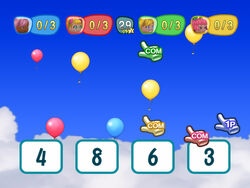 Quiz Show Showdown

Edit
Quiz Show Showdown is a gameshow run by Matt. He will ask numerous memory questions. You have to answer three of the questions to win the mini-game. It first appears in the Happy Festival.
Description
Edit
Matt: And on today's show, our contestants are... YOU! That's right! Answer the questions first, and then you can be our next big winner!
Recommended Stat(s)
Edit
Pointer- Move cursor
A- Select
Festival Appearance(s)
Edit
Ad blocker interference detected!
Wikia is a free-to-use site that makes money from advertising. We have a modified experience for viewers using ad blockers

Wikia is not accessible if you've made further modifications. Remove the custom ad blocker rule(s) and the page will load as expected.