Poppy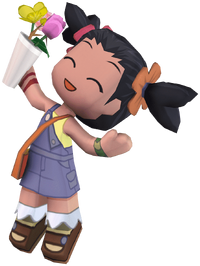 Character Info

Edit
Poppy runs the Bloomin' Blossoms minigame in which she needs watering her flowers in a park out of town. She is also the host of the Happy Festival. If you get a high score for her minigame, she'll move to your town and open a flower shop in the Center Flower Garden part of town. She is responsible for the floral arrangements for the Center Flower Garden.
Dialogue
During Minigame Dialogue
I planted a bunch of cute flowers around the park, but they need water to bloom! Can you help me water them?
Yay! Seeing all these totally cute flowers, has brightened up my day! Thank you! Here are your scores!
Dialogue about her Minigame
The higher your "Speed", the faster you run. I race on over when I see a thirsty flower. They can't bloom without our help, (your name)!
Flowers are cute, but some have pointy bees inside. If you run into one you won't be able to move, so "bee" careful! Tee hee!
Getting a bee sting doesn't just hurt your skin, it hurts your score! Be careful not to bump into bees. They'll eat your points!!!
Miscellaneous Dialogue
Do you know why I came to (town name)? Because of all the pretty FLOWERS! Let's plant flowers everywhere! Yay, flowers!
Know what I like? Monuments with lots and lots of FLOWERS! I think flowers can make any building look super cute! Don't you?
Hi there, (your name)! I saw you at the Happy Festival earlier. Isn't the festival super cute with all those flowers? I planted those!
Skills
Power- 1
Speed- 4
Stamina- 3
Luck- 1
Ad blocker interference detected!
Wikia is a free-to-use site that makes money from advertising. We have a modified experience for viewers using ad blockers

Wikia is not accessible if you've made further modifications. Remove the custom ad blocker rule(s) and the page will load as expected.