This article/section is a stub.
This article/section is short and lacking information. You can help MySims Wiki by expanding it.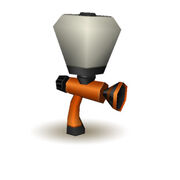 Use a high tech
paint gun
to instantly coat an entire surface with the color (or pattern) of your choice. Customize your headquarters to make it your own. You can unlock new paints by opening chests, solving cases, solving dispatch missions and finding secrets. The paint gun is very similar to the Wandolier Scepter from MySims Kingdom as you can pick any surface and paint it immediatly.
The Paint Gun can only be equiped at your HQ.

This is also the only device that can only be equiped at one location in MySims Agents
Ad blocker interference detected!
Wikia is a free-to-use site that makes money from advertising. We have a modified experience for viewers using ad blockers

Wikia is not accessible if you've made further modifications. Remove the custom ad blocker rule(s) and the page will load as expected.