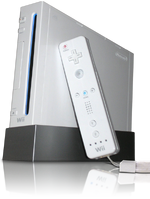 The Nintendo Wii is a video game console made by Nintendo, and is a seventh-generation console. It utilizes motion controls and is said to be the leading console in its generation in worldwide sales. According to Nintendo, the Wii was to be made to appeal to a more wider demographic. They hoped to lure more casual gamers with the Wii.
Along with the Nintendo DS, the Wii is the only system to have every MySims game so far.
Ad blocker interference detected!
Wikia is a free-to-use site that makes money from advertising. We have a modified experience for viewers using ad blockers

Wikia is not accessible if you've made further modifications. Remove the custom ad blocker rule(s) and the page will load as expected.