Ninja Star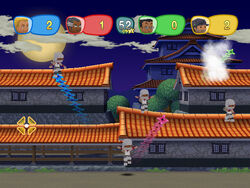 Ninja Star

Edit
Ninja Star is hosted by Star whom is attacked by enemy ninjas. She needs the players to throw ninja stars and defeat the ninjas.
Description
Edit
Star: Gasp! A hoard of enemy ninjas! Come! We must fend them off! Toss these ninja stars to scare them away. Be sure to aim well before you throw!
Recommended Stat(s)
Edit
Festival Appearance(s)
Edit
This mini-game's name is the same as the American name for a shuriken, which Star's name is based off of.
Ad blocker interference detected!
Wikia is a free-to-use site that makes money from advertising. We have a modified experience for viewers using ad blockers

Wikia is not accessible if you've made further modifications. Remove the custom ad blocker rule(s) and the page will load as expected.