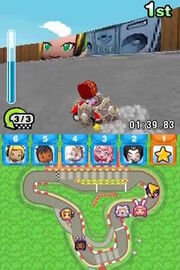 MySims Raceway
is a track in
MySims Racing (DS)
. It is a big raceway with a couple of houses on the side. Forgetting the shortcut, it is shaped like a "T".
There are three pictures on the side of the road. One picture is a picture of DJ Candy "Supergroove" next to a stereo, another one of Chef Gino next to pizza, and another of Ol' Gabby next to his gas station.
There is one other picture only located in the beach stuntland, which is a picture of Buddy next to the town hotel. It is strange why it does not appear in MySims Raceway.
This article/section is a stub.
This article/section is short and lacking information. You can help MySims Wiki by expanding it.