Here is a list of furniture and decorations you can use in MySims Agents. You can unlock these decorations by completing dispatch missions, opening hidden treasure chests, and examining things. You can use furniture after Agent Walker has given you the F-Space manipulator. Then, you can decorate your HQ with the furniture you unlocked. Each decoration has different types (also based on interests), including nature, paranormal, charismatic, smarts, or athletic. Each piece of furniture can raise points for each floor on your HQ.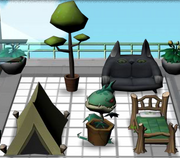 "Sparkling Snow"
"Temple Shakala"
Picnic Basket
Campfire
Fountain
Flower Stand
Wooden Organ Piano
Electric Stove
Grey Kitty Sofa
Grey Kitty Lounge Chair
Orang Tabby Sofa
Orange Tabby Lounge Chair
Wood Lacquer End Table
100% Organic Bed
Large Fish Tank
Fish Tank
Ant Farm
Flower Box
Happy Tiki
Angry Tiki
Ivy Trelis
Bunny Cookie Jar
Dinosaur Skull
Stuffed Bee Doll
Moose Head
Lawn Flamingo
Round Cement Planter
Small Office Plant
Large Office Plant
Potted Tree
Earth Decoration
Ceremonial Mask
Celebratory Mask
Floral Print Surfboard
Jade Dragon
This article/section is a stub.
This article/section is short and lacking information. You can help MySims Wiki by expanding it.
Ad blocker interference detected!
Wikia is a free-to-use site that makes money from advertising. We have a modified experience for viewers using ad blockers

Wikia is not accessible if you've made further modifications. Remove the custom ad blocker rule(s) and the page will load as expected.