MySims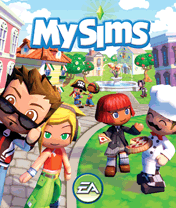 | | |
| --- | --- |
| Platform | Mobile Phones |
| Rating | N/A |
| Release Date | December 3, 2008 |

MySims for mobile phones hosts similar gameplay to its Nintendo DS counterpart. It can be bought on certain phones and services just like any other game available on a cell phone. It has 2D graphics, unlike the 3D graphics engine of the Wii and DS versions of the game. Like the Nintendo DS version, the Mobile version of MySims hosts a variety of 6 minigames, including Fishing, Racquetball, Lei Making, Sushi, Paragliding and Skydiving.
Official Description
Explore the world of MySims™ in your mobile phone. Settle in a new city and bring it to back life! Make friends with local characters and bring the city back to life! Create your MySim character and choose his appearance, and then set him off to a journey, carrying out tasks on his way. Make new friends, each possessing unique interests. And it depends only on you if the city will become prosperous again!
Story
In MySims for the Mobile, your town has been devastated by an extremely violent storm. You, the player, must help rebuild the town to its former glory, attract tourists, and play minigames. You are on a quest to collect six gems to supposedly help rebuild the town.
Characters
The cast of characters in the Mobile version of MySims is similar to the cast of characters available in the DS version with certain characters not in game and new characters appearing. Most characters have new roles.
For a full list, see the Character Portal
Ad blocker interference detected!
Wikia is a free-to-use site that makes money from advertising. We have a modified experience for viewers using ad blockers

Wikia is not accessible if you've made further modifications. Remove the custom ad blocker rule(s) and the page will load as expected.