Match'em Fashion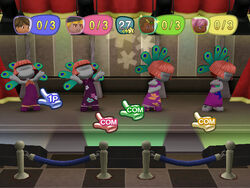 Match'em Fashion

Edit
Match'em Fashion is a minigame run by Ms. Nicole and she would like for you to find the mannequin that is wearing the same dress as she is in her fashion show.
Find the mannequin that is wearing the same dress as Nicole's! The first player to select it wins.
Description
Edit
Nicole: Welcome to Nicole's fashion show, darling! Just find the mannequin wearing the same fabulous dress. You shall find it unforgettable!
After Finishing
Edit
Nicole: My dress is so gorgeous, it must have been a cinch to find! Well darling, let's see your scores.
Point Wiimote: Move Cursor
A Button: Select
Recommended Stat(s)
Edit
Festival Appearance(s)
Edit
Ad blocker interference detected!
Wikia is a free-to-use site that makes money from advertising. We have a modified experience for viewers using ad blockers

Wikia is not accessible if you've made further modifications. Remove the custom ad blocker rule(s) and the page will load as expected.