Martin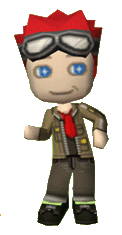 Character Info

Edit

Martin comes to your town after finding out that the villain flies around, doing his crimes in a UFO.
Martin is found by Dr. F, who hears a loud noise and finds Martin's helicopter crashed in a river. The scientist brings him back to his lab, where Martin meets you. He explains that he was flying in his helicopter, Shelia, when the UFO smashed into it, causing the chopper to crash. Dr. F offers to help build a heliport and you, Ellen, King Roland, and Dr. F then hear a big thump. Dr. F goes outside and finds Sheila, Martin's beloved plane, broken, along with poor Martin head first in the ground. After the incident, Martin stays in the lab with Dr. F. He'll also offer Martin to help fix his helicopter but needs a Reclusive Rotor and a Shifty Shaft. You offer to build a heliport.
Profile
Name: Martin
Age: ???
Gender: Male
Occupation: Pilot
Profile: Landed in this town by accident when he ran into some trouble during his trip.
Character Events
Fix the Helicopter Please
Dr. F is going to fix the helicopter. Find and give Dr. F a Reclusive Rotor and a Shifty Shaft.
Heliport Marker
If you have a heliport marker, you can set a heliport marker in town and Martin will take you different places. Buy a lot of things so Martin can pay back his loan!
Staying a Little Longer
He`s earned enough money to pay for Dr. F`s repairs, but Martin is beginning to like this town and will stay awhile.
Ad blocker interference detected!
Wikia is a free-to-use site that makes money from advertising. We have a modified experience for viewers using ad blockers

Wikia is not accessible if you've made further modifications. Remove the custom ad blocker rule(s) and the page will load as expected.