Makoto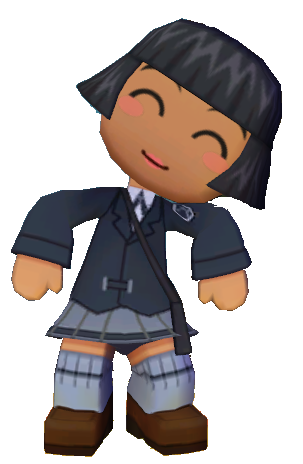 Character Info

Edit
Makoto is a girl, who is actually a highly advanced, artificially intelligent, humanoid robot made by Dr. F. She often speaks in capital letters.
Profile
Being a good student is easy for Makoto, because she is a highly advanced, artificially intelligent, humanoid robot.
Interests
Hates
Dialogue
Hotel Introduction
Initiating greeting protocol… HELLO. I AM MAKOTO. I AM A REAL PERSON, NOT A ROBOT.
Accept Move-In
FANTASTIC. YES, I WOULD LIKE TO LIVE IN THIS TOWN, BECAUSE I, LIKE YOU, AM A REAL PERSON.
After You Build House
THANK YOU FOR THE HOME. I AM SURE IT WILL SATISFY MY NEEDS AS A REAL PERSON.
Request For More Stuff
I REQUIRE STUDIOUS-LOOKING OBJECTS THAT WILL COMPLIMENT MY NON-SIMULATED EMOTIONS AND STYLE.
Star Level 4
HELLO, HOW ARE YOU? I AM FEELING THE EMOTION OF GENERAL CONTENTMENT.
IS NOT THE AIR HERE WONDERFUL? IT IS A PERFECT CONCENTRATION OF 21.00012% OXYGEN. IT IS PERFECT FOR MY RESPIRATION.
Initiating laughter protocol…HA HA HA HA. I AM FEELING AMUSEMENT AT THIS TIME.
DO YOU NOT ENJOY EATING FOOD FOR THE TASTE? YES, I DO TOO. I ENJOY THE SENSATION IT CREATES ON MY TASTEBUDS.
Star Level 5
AT SCHOOL I ENJOY THE SUBJECTS OF MATH AND SCIENCE. ALSO, I ENJOY ATHLETICS, BECAUSE MY LEGS ALLOW ME TO JUMP 47 METERS.
ALL PHOTOS OF ME AT AN EARLIER AGE HAVE BEEN DESTROYED OR STOLEN... OR SPONTANEOUSLY COMBUSTED. IS THAT NOT STRANGE? HA HA HA.
HAVE YOU SEEN DR. F? I MUST SHARE SOME DATA WITH HIM. HE IS MY FATHER.
ERROR! STRING NOT FOUND! OH. HA HA HA. I LOST MY PIECE OF STRING. HAVE YOU SEEN IT? HA HA HA.
Best Friend
Gratitude circuits engage…I AM VERY GRATEFUL. WE ARE NOW BEST FRIENDS. DO YOU REQUIRE ME TO SIGN YOUR YEARBOOK?
Best Friend Reward
Chair - Recharger blueprint
Ad blocker interference detected!
Wikia is a free-to-use site that makes money from advertising. We have a modified experience for viewers using ad blockers

Wikia is not accessible if you've made further modifications. Remove the custom ad blocker rule(s) and the page will load as expected.