Luis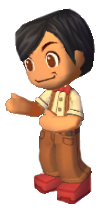 Character Info

Edit

Luis owns the newstand on Main Street right in front of the train station, selling papers for his college fund. He is valuble enough to give you information on anything that's going on. He does not request any missions throughout the adventure nor does he want to be recruited as an agent. Luis (along with Rhonda) can sometimes give you a hint during your Main Street missions on what to find or where to look. Luis's newspaper is apparently not successful because most people use the Internet for their source of news.
Ad blocker interference detected!
Wikia is a free-to-use site that makes money from advertising. We have a modified experience for viewers using ad blockers

Wikia is not accessible if you've made further modifications. Remove the custom ad blocker rule(s) and the page will load as expected.