Luis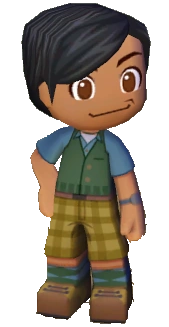 Character Info

Edit
Luis is a potential resident for your town. He is very smart and is obsessed with getting a good college application. He often talks about volunteering and improving his college application.
Profile
Luis has been preparing to get into college since he was in kindergarten. What's he going to do with his life once he actually gets accepted?
Interests
Hates
Dialogue
Hotel Introduction
Hi, I'm Luis. Is there any community service I can do in this town? It would look great on my college application.
Accept Move-In
Are you asking me to be a volunteer? Colleges love kids who volunteer.
After You Build House
Great house! I wonder if "homeowner" will look impressive on my college application…
Request For More Stuff
I need to take on more independent Studies! Can't let my grades slip just because I'm not in school anymore!
Star Level 5
Whew! I just got finished sending my application to 10 of my favorite colleges, 20 fallback colleges, and 63 backup fallback colleges!
All of my college applications are printed on custom paper. It features a watermark of my face. Do you think they'll like it?
Best Friend
Thanks, [player name]! If you submitted an application to be my best friend, I'd stamp it with a big ACCEPT!
Best Friend Reward
Ad blocker interference detected!
Wikia is a free-to-use site that makes money from advertising. We have a modified experience for viewers using ad blockers

Wikia is not accessible if you've made further modifications. Remove the custom ad blocker rule(s) and the page will load as expected.