Liberty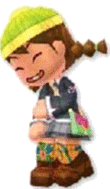 Character Info

Edit
Liberty is a student of The Royal Academy who really likes and studies nature, especially snakes. Upon arriving on the island, she is to be found somwhere around the school. She lives at the dorm near the school and also really likes fellow pupil Travis whom she wants to ask to the school dance. She is quite shy, unlike her friend Summer who also wants to ask Travis to the dance. If you ask Liberty to dance with Travis she will be very pleased and slightly less shy.
Profile
Did you know that snakes have over 300 vertebrae? Isn't that super neat? I don't think Travis has that many vertebrae, but he sure does make study groups fun. Almost as fun as snakes! Heeheehee...
This article is in need of images
Picture(s) required: not specified
You can upload images here, and add them to the article by clicking here.
Ad blocker interference detected!
Wikia is a free-to-use site that makes money from advertising. We have a modified experience for viewers using ad blockers

Wikia is not accessible if you've made further modifications. Remove the custom ad blocker rule(s) and the page will load as expected.