King of the Combo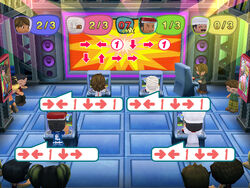 King of the Combo

Edit
King of the Combo is run by Rob Jarrett. He wants you to master a combo by inputing the correct buttons.
Enter combos quickly and correctly to pull off a special maneuver. Enter the most combos to win
Description
Edit
Rob: Check it out! I'll teach you my ultimate, uber- combo. If you enter it perfectly, it does the Ultimate Move! Just don't mess it up!
After Finishing
Edit
Rob: See? You stayed calm and pulled the perfect combo! Staying cool is the key to winning games. Well, here are your scores.
Controls
Edit
D-pad/ 1 Button / 2 Button: Enter combos
Recommended Stat(s)
Edit
Festival Appearance(s)
Edit