Karine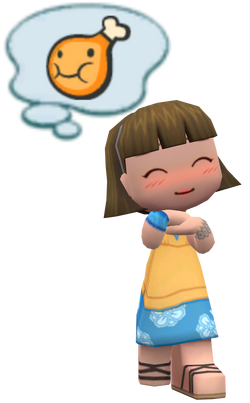 Character Info

Edit
Karine is a tasty young girl. She is obsessed with tasty snacks and loves talking about different flavors. Her bed is even a sandwich, and she has somewhat of a country accent. She has pale skin, an orange tank top with a blue skirt, short, brown hair, freckles, and big, blue eyes.
What's Karine dreaming about back there behind those big blue eyes? One thing's for sure: it's tasty!
Interests
Edit
Dialogue
Edit
Hotel Introduction
Edit
Why, hello there, sugar. My name's Karine. Did you know that sour tastes are all the rage these days?
Accept Move-In
Edit
Move here? Well I sure will! That sounds delightful!
After You Build House
Edit
This town sure is interestin'. Yep, mmm hmm.
Request For More Stuff
Edit
I wish my house just looked totally Tasty. Like I could take a bite out of the walls, and my whole mouth would get filled with delicious flavors!
Star Level 5
Edit
Can you believe, sugar? Salty! Salty's the new trend! And you know what? I have a hankerin' for some chips right now. I might just get me some!
Best Friend
Edit
Well, [player name], you've been a perfect dear. Hey, are you trying to bring sweet back into fashion?
Best Friend Reward
Edit
Karine makes cameo appearances in MySims Racing, cheering on the star racer upon completing the Town Cup.
In the MySims Party trailer, there are two people who look like Karine, one is identical apart from hair colour, and the other one is similar but has a different mouth and clothing.
Karine's MySims concept artwork can be seen in Shirley's minigame in MySims Party.
Foreign Name
Edit
English: Karine
German: Karina
Spanish: Karina
Ad blocker interference detected!
Wikia is a free-to-use site that makes money from advertising. We have a modified experience for viewers using ad blockers

Wikia is not accessible if you've made further modifications. Remove the custom ad blocker rule(s) and the page will load as expected.