Jenny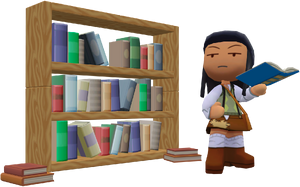 Character Info

Edit
Jenny is a girl who loves rockets, her bed is even a metal rocket! She likes to visit Vic Vector's arcade as she really enjoys playing video games. Also, she seems to like writing fanfics for a sci-fi show called "Starcruiser X" and is in love with a character called "Captain Argon" in it. She has a black cap over her long, black hair, a small frown and a school-girls uniform.
Profile
Jenny is president of five science fiction clubs, seven video game clans, and a prolific fan fiction author. She doesn't sleep.
Interests
Hates
Dialogue
Hotel Introduction
Yeah, so… Hi, I guess. My name's Jenny. I'm looking for a town that can appreciate the subtle art of sci-fi fan fiction.
Accept Move-In
How exciting. I'll pretend you're building me a house on the moon.
After You Build House
I like your town. It gives me an idea for some new fan fiction: What if the captain from "Starcruiser X" built a space colony with his bare hands?
Request For More Stuff
I need Geek inspiration if I'm ever going to finish my story "The Captain From Starcruiser X and Me Get Married."
Star Level 3
Captain Argon of Starcruiser X would never be stopped by a big metal door in the forest. He'd cut through it with his Plasma Saber!
My Starcruiser X fanfictions are up to 178,930 downloads. Yeah, it's a little disappointing, but I'm sure they'll catch on soon!
Star Level 4
Captain Argon of Starcruiser X is pretty much my husband. He's so dreamy!
Wasn't it cool when Captain Argon of Starcruiser X defeated the Space-Marmots of Nepton with his Plasma Saber?
My Starcruiser X fanfictions are up to 478,930 downloads. I'm sure they'll take off eventually.
Star Level 5
Three cheers for Starcruiser X! Three cheers for Captain Argon!
My Starcruiser X fanfictions are up to 23,178,930 downloads. Do you think I finally made it big?
Best Friend
[player name], you are my new inspiration. I should be writing stories about you!
Best Friend Reward
Television - Space Ship blueprint
Bed - Jenny's blueprint
Ad blocker interference detected!
Wikia is a free-to-use site that makes money from advertising. We have a modified experience for viewers using ad blockers

Wikia is not accessible if you've made further modifications. Remove the custom ad blocker rule(s) and the page will load as expected.