Happy
MySims Kingdom

Edit
| | |
| --- | --- |
| Island | N/A |
| Specific Location | N/A |
| Essence Type | Social Essences |
| Mana Given From Transmuting | 3 |
Happy Essences can be obtained easily by just being nice to other Sims in MySims Kingdom, just like in the original MySims. There are many minor ways to obtain many of these essences, but the recommended way to obtain them is to just be nice to other Sims. Unlike in the original MySims, all Sims will drop happy essences when you are nice to them, no matter who they are. However, you are not able to do be nice interactions with Buddy or Lyndsay, so you must try being nice to other Sims. Also, you cannot be nice to sims for the first part of the game.
Possible Ways To Get
Edit
Be Nice to other Sims.
After eating food (must watch the complete action).
Dropping while watching Television.
Dropping while watching guitar being played.
Dropping while watching piano being played.
Riding on the Mechanical Bull Ride and having it end without accidents.
Dropping while taking a bath in a bathtub.
Dropping while riding the rocket ride at Vic Vector's training grounds.
Dropping while playing or working on computer.
Dancing to the DJ booth's music.
Dancing on a dance floor.
Relaxing in a hot tub.
Splashing in a fountain.
Dropping while giving speech at a podium.
Finish riding on the Hyper Gyro Dance Sphere without accidents.
Drops after your Sim or another Sim feels that a Séance using the Summoning Circle is successful and claps.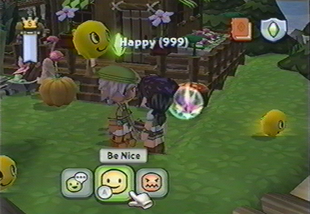 Ad blocker interference detected!
Wikia is a free-to-use site that makes money from advertising. We have a modified experience for viewers using ad blockers

Wikia is not accessible if you've made further modifications. Remove the custom ad blocker rule(s) and the page will load as expected.