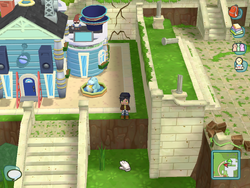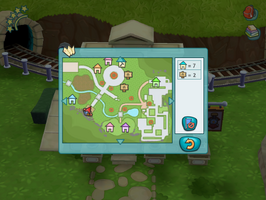 The Gardens is a location exclusively found onn MySims (PC). They can be accessed only once you reach Star Level 2. Once you reach Star Level 2, you can interact with the ticket machine at the Train Station in your town and ride there.
You were previously able to visit friend's gardens, however, the online features were retired by EA. You can build whatever you want in your garden and your friend's gardens, and put any buildings, essences, and objects you want in them. There are 9 lots you can build houses in and a workshop to build objects in. Every player's garden has its own exclusive essences from fishing, prospecting, and etc. When with friends online, you could type emotions, chat, and play tag by interacting with the statue in the center square.
Essences
Edit
Harvesting From Trees
Edit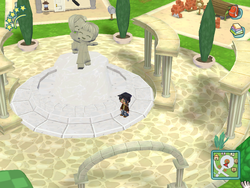 Prospecting
Edit
Emotions
Edit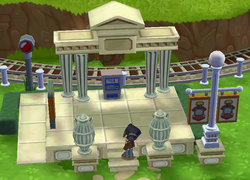 These were what you had to type in the chat box to activate an emotion.
/afraid
/angry
/belch
/blush
/bounce
/bow
/bubbles
/cheer
/clap
/come
/confetti
/cute
/cutewave
/dance
/dancekick
/disco
/fun
/furious
/greet
/grumpy
/happy
/heckle
/help
/hipshake                                                                        
/hipslide
/hoot
/kiss
/laugh
/love
/mad
/no
/point
/pop
/robot
/sad
/shakefist
/sneeze
/stinky
/tap
/taunt
/tease
/thank
/time
/unhappy
/verycute
/wave
/yawn
/yes
Available Lots
Edit
Ad blocker interference detected!
Wikia is a free-to-use site that makes money from advertising. We have a modified experience for viewers using ad blockers

Wikia is not accessible if you've made further modifications. Remove the custom ad blocker rule(s) and the page will load as expected.