Firefall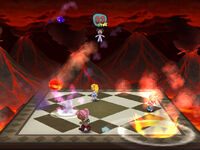 Firefall

Edit
Firefall is run by Morcubus. He will float in the air as he shoots red and blue-purple fireballs at the players as they scurry in fear until time runs out.
Description
Edit
Morcubus: Welcome....... to your DOOM!!!!!!!!!!!!!!!!!!!!!!!!!! Scurry around in futility while I, Morcubus, summon an inescapable STORM OF FLAME!
Recommended Stat(s)
Edit
Festival Appearance(s)
Edit
This proves that Morcubus does have magical powers and isn't just bluffing.
If you don't last until the time runs out, then it comes up with draw even if the other teams got more than 80 points, meaning they must have passed through the time limit.
Ad blocker interference detected!
Wikia is a free-to-use site that makes money from advertising. We have a modified experience for viewers using ad blockers

Wikia is not accessible if you've made further modifications. Remove the custom ad blocker rule(s) and the page will load as expected.