Elmira Clamp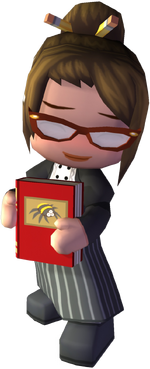 Character Info

Edit
Elmira Clamp runs the minigame, Rack the Stack, where she needs you to take the books from the check-in counter and put them in the color-matching shelf. She also hosts the Intense Festival, where you'll be able to participate in some intense (and quiet) minigames.
Dialogue
During Minigame Dialogue
Dialogue about her Minigame
Miscellaneous Dialogue
Skills
| Power |  ? |
| --- | --- |
| Speed |  ? |
| Stamina |  ? |
| Luck |  ? |
Ad blocker interference detected!
Wikia is a free-to-use site that makes money from advertising. We have a modified experience for viewers using ad blockers

Wikia is not accessible if you've made further modifications. Remove the custom ad blocker rule(s) and the page will load as expected.