Edwin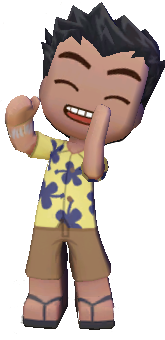 Character Info

Edit
Edwin returns to host the minigame Yummy in my Tummy. He is the star of an eating contest and wants the players to deliver the specified foods. He claims he can eat the same food over and over again. As long as he wants it. In the minigame Edwin is dreaming about a certain food, You have to pick up the right food off the conveyor belt and give it to him. You have to watch out though, he might change his mind if everybody takes too long!
Dialogue
During Minigame Dialogue
Today, we're having a special eating contest. Bring me food, and i'll see how much I can eat! I'll tell you what I'm in the mood for!
Ah, thanks guys. I'm about to burst! Here, check out your scores.
Dialogue about his Minigame
"Speed" is the key to winning my mini-game. If it's hot and I have my mayonnaise, I'll eat it! Everything tastes better with mayonnaise!
If I like a food, I could eat it forever! So, I don't mind if the same person brings the same things over and over again!
I'll let you know which food I want to eat the most. Oh, I'll eat other food, too, I just won't give you any points for it.
Miscellaneous Dialogue
Oh, hey, I'm Edwin. Do you know any good restaurants around here? I wonder if they'll get mad if I bring my own mayonnaise.
I love (town name) 'cause there're many good chefs in here. If this town was a juicy sandwich, the cooks would be its smooth mayonnaise.
Skills
| Power | 2 |
| --- | --- |
| Speed | 5 |
| Stamina | 1 |
| Luck | 1 |
Ad blocker interference detected!
Wikia is a free-to-use site that makes money from advertising. We have a modified experience for viewers using ad blockers

Wikia is not accessible if you've made further modifications. Remove the custom ad blocker rule(s) and the page will load as expected.