Edwin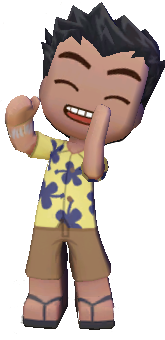 Character Info

Edit
Edwin is a tasty Sim who will come once your town has reached a middle point. He loves the taste of mayonnaise and always talks about it. He sports a yellow vacation shirt with blue flowers, jeans, and spiky black hair.
Profile
When Edwin bites into just about anything, he's happy. Sometimes, he chews on his own tongue, just for kicks!
Interests
Hates
Dialogue
Hotel Introduction
Hey, Bud! I'm Ed. Don't you just love the tasty zing of mayonnaise? I know I do.
Accept Move-In
Mayonnaise glides on smooth and creamy, and turns any sandwich into a meal! I'd love to live in your town.
After You Build House
Well, this house is as fine as the flavor of everyone's favorite sandwich spread. You know the one I'm talkin' about.
Request For More Stuff
The more fridges the better, that's what I always say. That way you never run out of things to eat!
Star Level 4
You know why I respect mayonnaise? 'Cuz it comes in a jar, not one of those fancy-pants squeeze bottles!
Star Level 5
Can I let you in on a little secret? Sometimes, when you're hungry enough, all you need is mayonnaise and a spoon!
Best Friend
[player name], just like mayonnaise to a ham sandwich, you are truly my best friend!
Best Friend Reward
Ice Cream Freezer - Pagoda blueprint
Ad blocker interference detected!
Wikia is a free-to-use site that makes money from advertising. We have a modified experience for viewers using ad blockers

Wikia is not accessible if you've made further modifications. Remove the custom ad blocker rule(s) and the page will load as expected.