Dr. F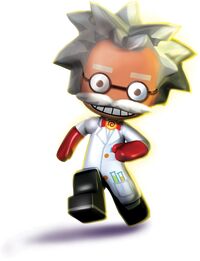 Character Info

Edit
Dr. F runs the minigame, Robo-Assault! and is much more "evil" (crazy) than before. Dr. F has created a large, menacing robot in which he has an experiment planned out...he wants to test and observe you and your friends' reactions upon seeing this robot which will make you run in fear! Basically, crazy Dr. F is conducting experiments to see you flee in terror and escape the SCIENCE of Dr. F! He also hosts the Bizarre Festival, which, as the name suggests, hosts an array of bizarre minigames for you to participate in.
Dialogue
During Minigame Dialogue
Dialogue about her Minigame
Miscellaneous Dialogue
Skills
| Power |  ? |
| --- | --- |
| Speed |  ? |
| Stamina |  ? |
| Luck |  ? |
Ad blocker interference detected!
Wikia is a free-to-use site that makes money from advertising. We have a modified experience for viewers using ad blockers

Wikia is not accessible if you've made further modifications. Remove the custom ad blocker rule(s) and the page will load as expected.