Dolly Dearheart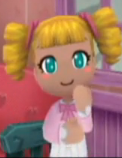 Character Info

Edit

Dolly Dearheart is the host of Dress for Success. She has so many outfits and can't decide what to wear. She will think of an outfit and ask for you to search for it in her closet. She is also the host of the Pretty Festival. If you get a high score from her minigame and complete her festival, she will move into Twinkle Hills and build a clothing store.
Dialogue
During Minigame Dialogue
Dialogue about her Minigame
Miscellaneous Dialogue
Skills
| Power |  ? |
| --- | --- |
| Speed |  ? |
| Stamina |  ? |
| Luck |  ? |
Ad blocker interference detected!
Wikia is a free-to-use site that makes money from advertising. We have a modified experience for viewers using ad blockers

Wikia is not accessible if you've made further modifications. Remove the custom ad blocker rule(s) and the page will load as expected.