DJ Candy "Supergroove"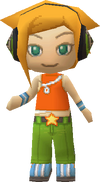 Character Info

Edit
| | |
| --- | --- |
| Role | DJ, Curio Shop Owner, Club Owner |
| Location | Club Candy - Town Hall Plaza, Autumn Bay |

DJ Candy "Supergroove" lives in Autumn Bay as a Curio Shop owner during the day and at night, she runs her DJ Candy Club. You can not go in with your agent suit on. She does not help really or ask any favors but she does make a new minigame for you, though she does get mad at you if you miss a turn in her mini-game. She is super nice and has new items in her shop. Her curio shop sells posters and other decorations and she usually only has about two people in her club.
Profile
Every night she spins her groove at Club Candy. Who would have thought during the daytime she would run a curio shop?
Tasks
Deliver the "Mystery Box"
Deliver the "Mystery Box" as directed by DJ Candy, without letting Ginny know anything.
Who's not telling the truth?
The show must go on! Find the person who is trying to sneak in to the Premium Candy Party by lying about being sent a ticket.

This article/section is a stub.
This article/section is short and lacking information. You can help MySims Wiki by expanding it.
Ad blocker interference detected!
Wikia is a free-to-use site that makes money from advertising. We have a modified experience for viewers using ad blockers

Wikia is not accessible if you've made further modifications. Remove the custom ad blocker rule(s) and the page will load as expected.