Crystal Clarity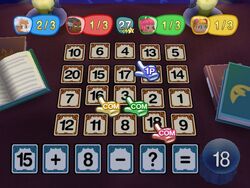 Crystal Clarity

Edit
Crystal Clarity is a minigame hosted by the spooky Madame Zoe. She will try to solve an equation using her crystal ball. The players must find the missing number of the equation.
Find the correct number to complete the formula. The first player to find the missing numbers wins.
Description
Edit
Madame Zoe: "Ah, mon chére. With my fortune crystal, I can predict the answers to arithmetic problems. Now, find the number to make the prediction come true!"
After Finishing
Edit
Madame Zoe: "Ah, exactly as my fortune crystal predicted. Here are your scores..."
Point Wiimote: Move Cursor
A Button: Select
Recommended Stat(s)
Edit
Festival Appearance(s)
Edit
Ad blocker interference detected!
Wikia is a free-to-use site that makes money from advertising. We have a modified experience for viewers using ad blockers

Wikia is not accessible if you've made further modifications. Remove the custom ad blocker rule(s) and the page will load as expected.