Crystal
Talk

5
1,447pages on
this wiki

Crystal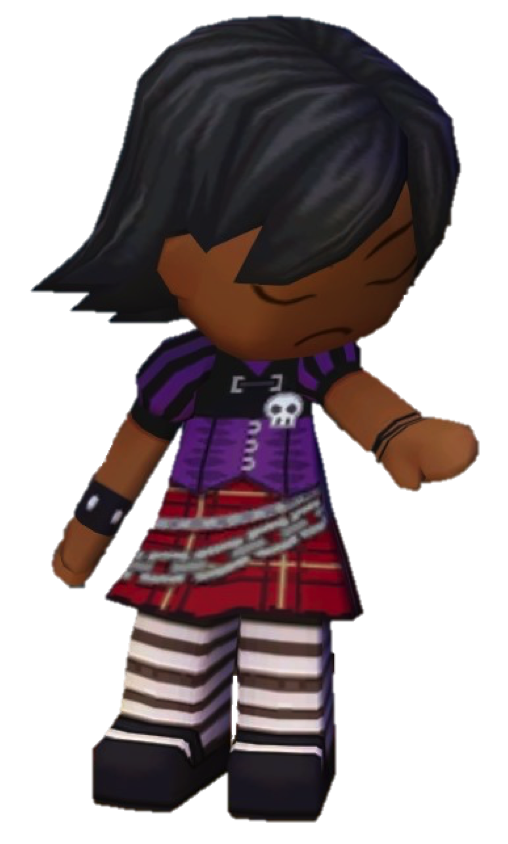 Character Info

Edit
Crystal is a spooky girl whom will come when your town is close to full. She hates cheerleaders and normally stays alone. She wears a purple and black vest with a red plaid skirt with skulls and chains and striped stockings with black mary janes. She has black hair with spiky ends and yellow eyes resembling a cat's. She also wears a spiked wristband on her right wrist and straps on her left.
All of Crystal's sisters cheerlead, and she can too. "Spookies! Spookies! Come to town! Turn those smiles upside-down! Rah."
Interests
Edit
Hotel Introduction
Edit
I'm Crystal. I was just traveling, seeing the world, and trying to get away from my four sisters. Can you believe I was the only one of five girls that didn't want to be a cheerleader?
Accept Move-In
Edit
Seriously? A whole house all to myself? Away from my cheering sisters? Done!
After You Build House
Edit
Ahhh…listen to that quiet. Not a single "Rah" to be heard!
Request For More Stuff
Edit
Hmm, what if my sisters try to visit? I need to make my house really, really scary.
Star Level 4
Edit
You'll make this a place I can really fit in, right? Like, a spooky town? Without cheerleaders?
Star Level 5
Edit
Sims that like Spooky stuff aren't bad people…we just have different tastes!
Best Friend
Edit
Oh, [player name], everything is beautiful! I wish YOU were my adopted family!
Best Friend Reward
Edit
Bookshelf - Ornate blueprint
Crystal cameos at the end of MySims Racing after the Ultimate Cup.
It's possible that Crystal is adopted because she said, "I wish you were my adopted family!".
It is possible Crystal is related to Summer because in MySims she said she had cheerleading sisters.
Crystal shares her primary, secondary, and hated interests with Violet.
It is ironic that she likes fun if she hates her cheerleeding sisters, and cheerleeding is fun.
Foreign Name
Edit
English: Crystal
Spanish: Cristal
French: Christelle
German: Christell