Clayton Dander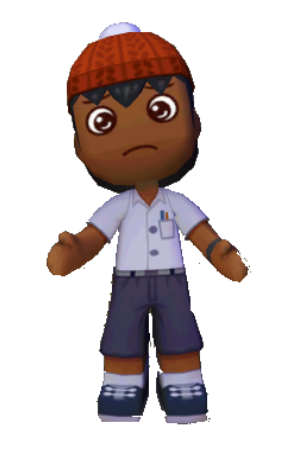 Character Info

Edit
Clayton Dander is a geeky boy whom will come to your town when it is bustling. He is good at math, but is always nervous and seems to be a bit unpopular.
Clayton Dander is especially good at math, but vaguely nervous. Fortunately most of his friends are the same way.
Interests
Edit
Dialogue
Edit
Hotel Introduction
Edit
Hi, I'm Clayton. But m-most people call me "Mr. Unpopular and Lame." You can call me that too, if you want, I guess… *sigh*
Accept Move-In
Edit
Wha? You want ME to move in? N-nobody's ever shown any interest in me, ever! Wow!
After You Build House
Edit
Wow, what a cool house! I can't believe you asked me to live here! What a dream come true!
Request For More Stuff
Edit
Oh, [player name]. You can come hang out anytime you want to, okay? Y-you don't even need to bring any gifts!
Star Level 5
Edit
I wanna go into the desert, so I can make a giant quadratic equation in the sand! But there's a rock in the way…
If the train leaves this town at 3PM and gets to the next town at 5PM, and another train leaves the next town at 4PM and gets to the town after that at 7PM…um, when will somebody be my friend?
Wow, it's so awesome you stopped to talk to me! Um, what do you want to talk about? How about theorems? I love theorems! Lemmas?
Best Friend
Edit
[player name], you're my best friend ever! Even more than my invisible friend, Skippy! (He's standing right next to you.)
Best Friend Reward
Edit
Hot Tub - Robohead blueprint
Appearance
Edit
Clayton has an appearance similar to a geek. He wears a red hat in a shape similar to Liberty's over his black hair. He has dark skin, and has eyes similar to Daryl. He wears a white buttoned shirt with a pocket holding pens, along with blue pants, and it seems similiar to Ian Arneson's outfit. Clayton wears a black wristband on his left wrist, and wears blue shoes.
Ian and Clayton are the only Geeky Sims that don't appear in any other game, although Ian does make a brief cameo in a screenshot in MySims Racing.
It is odd that Clayton says that there is a rock blocking off the desert, because you are able to get rid of it at Star Level 3 and you can build a house for Clayton at Star Level 5.
Foreign Name
Edit
English: Clayton Dander
Spanish: Celedonio Dársena
Ad blocker interference detected!
Wikia is a free-to-use site that makes money from advertising. We have a modified experience for viewers using ad blockers

Wikia is not accessible if you've made further modifications. Remove the custom ad blocker rule(s) and the page will load as expected.